WILDEBEEST MIGRATION WORKING GROUP: 
RESULTS FROM THE INITIAL WG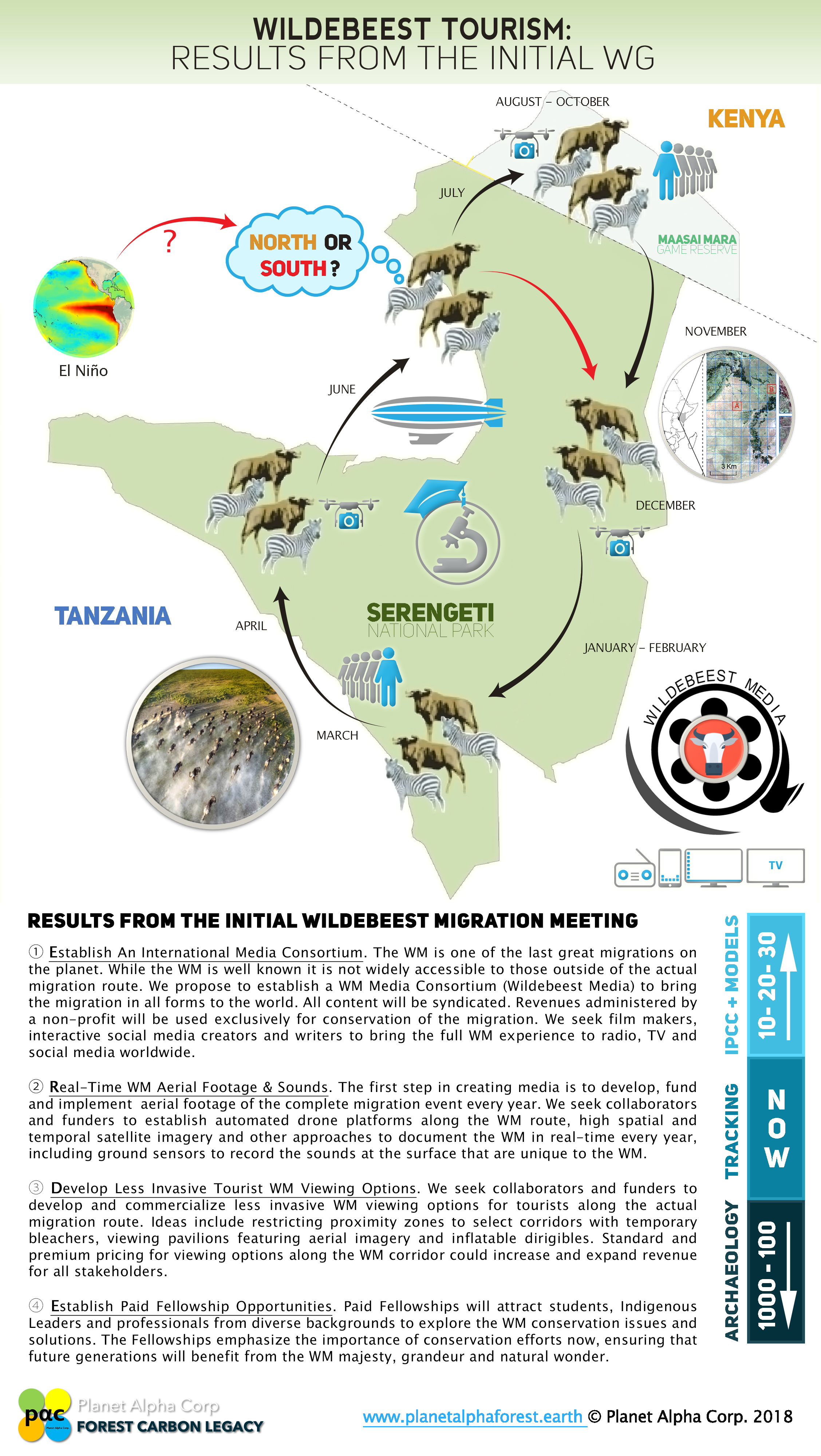 ---

---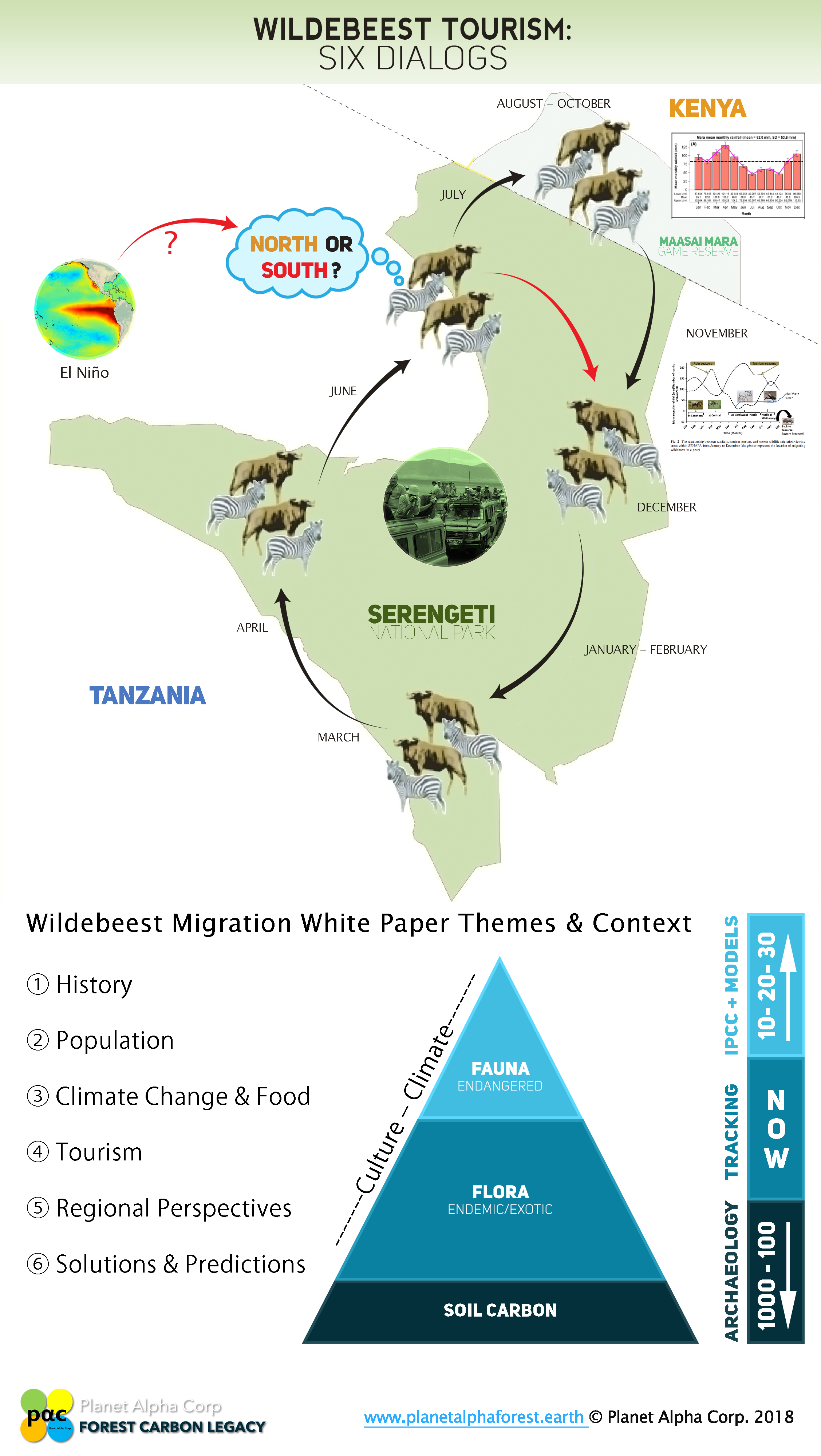 ---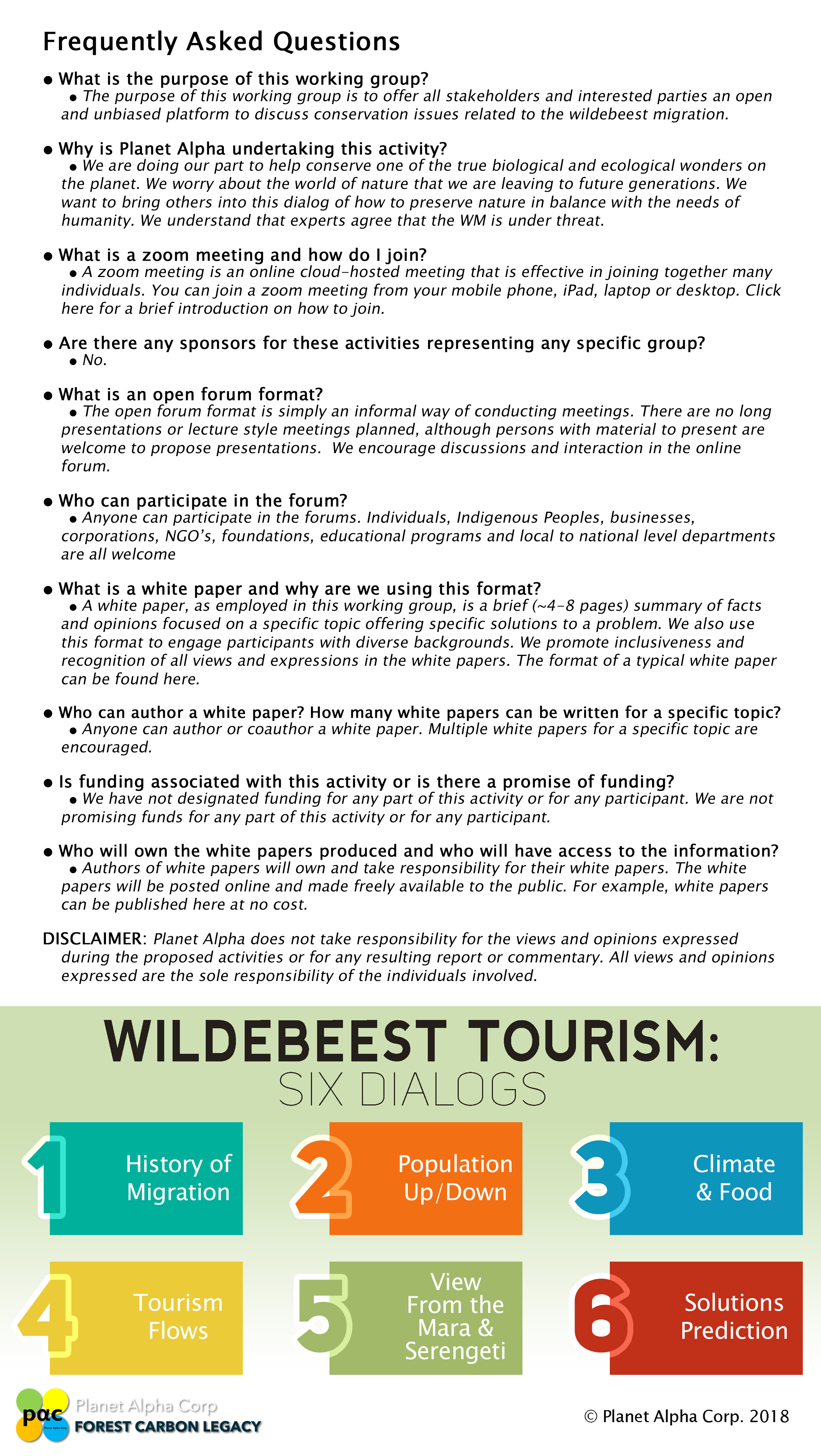 [/vc_cta]
---
The 8th Wonder of the World is a Gift of the Biosphere to Humanity
Bruno D.V. Marino, CEO, Planet Alpha Corp., Cambridge, MA, USA
Introduction
The wildebeest migration is of planetary scale and is culturally iconic across the world. The migration is often referred to as the "7th Wonder of the World." The unique strands of planetary, cultural and species DNA converge through time and space during the wildebeest migration. It is a magical and yet harsh reality of nature that we can clearly see and hear. Underneath the majesty of the wildebeest lies the ever-changing habitat that drives the herd for food and water through seasons across Kenya and Tanzania. The focus of our effort is to assist in preserving the future of the migration against increasing pressure from human activity.
Anthropogenic factors increasingly dominate the migratory landscape, diminishing the natural features of this iconic annual event. Massive wildebeest flows are no match for disruption caused by expanding agriculture and fences linked to human population densities and increasing urbanization. Tourism revenues from the migration are important to local economies yet encroachment by human activities has pierced natures balance exposing vulnerabilities. In fact, many wildebeest populations are in drastic decline across the region according to published data.
Loss of the iconic migration would contribute to an astonishing decline in biodiversity, turn tourism away and diminish related ecosystem services. The singularity of collective action by the wildebeest is its most defining and alluring feature but also one of its most vulnerable traits. Fragmentation of the migratory corridor could have profound effects on the flora, fauna, and culture that comprise the migratory phenomenon. We believe that urgent efforts are needed to protect wildebeest migratory corridors and dispersal areas to preserve migrations for the future.
Current conservation efforts may not be enough to address and solve the fragmentation problem.
Goal
Our goal is to work with and assist stakeholders to preserve the wildebeest migration corridors by restoring the balance of nature and anthropogenic impact. In reality, although natural wonders such as the wildebeest migration are truly priceless, the anthropogenic imprint on nature can be valued and priced for corrective action. This is, in part, what Planet Alpha Corp. establishes through direct measurement and monetization of greenhouse gas emissions. Our model of land restoration is linked quantitatively to avoidance of CO2 release and to storage of carbon by sequestration resulting in unique offsets integrating land use, flora, fauna and culture in a suite of biospheric products.
In our view, wildebeest migration preservation is a critical test of engagement for humanity. If we take definitive action now we can preserve the 7th Wonder of the World for future generations. Establishing programs that ensure the wildebeest migration for the next century will address three important goals:
1) Cultural continuity as the wildebeest are woven into the landscape of Maasai culture and the entire region,
2) Biodiversity up-scaling and protection, given that currently the migration route is being down-sized by fragmentation with the potential loss of wildebeest herd over time, and,
3) Avoidance of soil CO2 emissions to the atmosphere related to the land parcels that may otherwise be developed, but avoided as long as the wildebeest roam on the land.
We consider every square meter of the migration route a biospheric portal that mediates soil, floral and faunal trace gas dynamics. Our approach is to develop an economic framework that incentivizes defragmentation and reassembly of the landscape with long-term conservation of the important wildebeest corridors. Arrangements around land tenure and policies for areas that contribute to fragmentation can be appropriately structured including options for payments to leaseholders in exchange for a "conservation hold" on current leases. While lease payments from tourism have in part sustained support for operational conservancies and families, additional revenue as envisioned will diversify economic support and enhance eco-tourism that is linked to the migration itself.
Working Group
Join our informal working group to discuss community-based innovative solutions across disciplines and approaches (e.g., Indigenous Peoples knowledge, migration tracking, rangeland ecology, climate change). Our approach will be supported by traditional and innovative funding and revenue provided directly to communities.
We seek direct participation from Indigenous Peoples, conservancies, private landowners, municipalities, and regional experts in zoology, plant physiology, soil science, regional climate change, anthropology, and other relevant disciplines. Diverse entities are encouraged to participate including community-based organizations, universities, private research institutes, non-profits, private corporations, NGO's and governmental departments.
Our first task will be to map out the corridors to determine the most critical migratory routes. We will compile a set of high-resolution GIS maps establishing land parcels that are contributing to fragmentation and develop options for landowners. Community-based organizations will conduct transactions with stakeholders.
How will we work together?
Organize the working group
Define the problem of fragmentation
Integrate solution approaches
Develop a budget and funding plan
Develop an implementation plan
Create a network of real-time collaboration and discussion
Our In-Country Project Manager: Benson Lemara, Friends of Maasai Forest